Forest Service Public Comments Needed for eBikes 

DUE OCT 26 Comment period ended.



The U.S. Forest Service is proposing new policies that would update how electric bicycles should be managed on National Forest System lands.
If adopted, these changes to the Forest Service directives would mean that:
Electric bicycles are defined within the three class system.

Electric bicycles are still managed as motor vehicles. 

Land managers have the authority to designate electric bicycle use on trails where bicycles are allowed, but those trails would be redesignated as motorized, and only open to bicycles and all or some classes of electric bicycles. 

Land managers are encouraged to consider whether the effects of electric bicycle use are comparable to those of traditional bicycle use.

Future travel management decisions should consider emerging technologies like electric bicycles.
**People for Bikes is also requesting one modification to the proposed changes -- that electric bicycles be removed from the definition of "motor vehicle" and considered to be a non-motorized use.
Submit a comment using People for Bikes' form letter.
This is another important opportunity to help lay the groundwork for future ebike access - your voice absolutely counts!
COVID-19 Notice, Safe Cycling - Please Read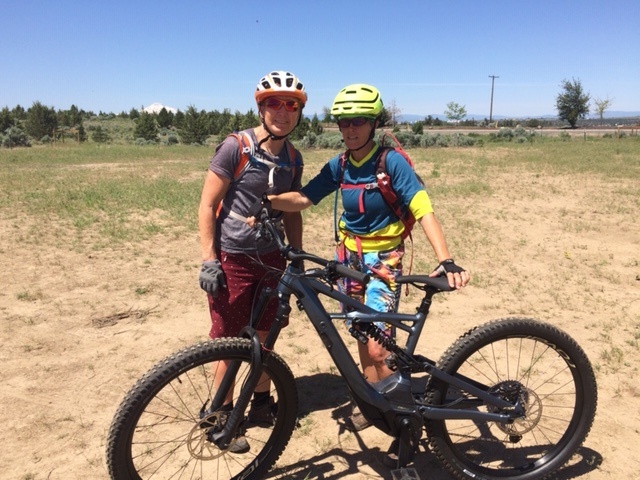 CAN I RIDE eBIKES on PUBLIC LANDS?  Nov 2, 2020

Department  of Interior Issues New Rules for eBike Access
The Dept of Interior which oversees four agencies – the National Park Service, Bureau of Land Management, the Fish and Wildlife Service, and the Bureau of Reclamation finalized rules for electric bicycle use on public lands. It clearly defines electric bicycles as bicycles as long as they fit within one of the three classes. The rules also give local land managers the authority to permit their use on non-motorized trails. Details here. There is still work to be done and local land managers will be making further decisions based on these new rules. The agency websites are a good resource to find out where ebikes will be allowed. You can also reach out to the local land manager. As always we will keep you posted on our website.

National Parks eBike Website
BLM eBike Website
Dept Fish & Wildlife eBike Website
Bureau of Reclamation ebike Website
Oregon Parks and Rec Dept (OPRD)
YES. A person may operate an electric assisted bicycle on roads and trails eight feet or wider unless otherwise posted to restrict or permit such activity.
US Forest Service Lands
YES, but only on Motorized Trails and Roads Only - eBikes are considered motorized vehicles on USFS lands and have access to motorized trails.MVU Maps are available for free at Deschutes National Forest office or Online. Comment period for eBike access ended Oct 26. Stay tuned for updates.
eBike access is moving at a quick pace and we will keep you posted as we get more updates.
eBIKE RIDE RESOURCE LINKS
Gravel Rides in Central Oregon

Selected eBike Rides by our friends at Dirty Freehub
Interactive eBike Map

See recommended trails, submit your favorites and check out other eMTB resources – eMTB Adventures, land manager tools, and more!Interactive eMTB Map
Rides inMTB Project - filter for "eBikes Allowed"

Elkhorn Crest Loop (more info) Sumpter | 38.1 miles
South Fork Walla Walla (more info) Umatilla National Forest | 18 miles
Pole Creek Ridge Trail (more info)
Umatilla Rim (more info) Umatilla National Forest | 35.3 miles
Little Greyback - Mule Mtn. Loop (more info) Rogue River National Forest | 17.6 miles
Rides in Trailforks - filter activity for eBikes Allowed
eMTB TRAIL ETIQUETTE GUIDE
It's important that we all share the trail and be good stewards of our lands - see eBike Etiquette Guide
Meanwhile, keep riding!
YOU HAVE A VOICE IN eBIKE ACCESS
Do you think ebikes should have access to trails including those reserved for non-motorized vehicles?
Currently, there are myths and assumptions about e-bikes and while some may have been true in the past the e-bikes of today are high-quality with premium components and accessories. More importantly, modern electric bikes are speed and safety regulated falling into 3 categories. Additionally, those electric vehicles that fall outside of these widely accepted definitions are not considered bicycles, nor are they sold or supported by this or other reputable electric bicycle retailers.  
Our land managers want and need to hear from you! If you would like to comment about the value of ebikes, and would like to have ebikes on non-motorized trails on federal lands please take a moment to write your national representative via People for Bikes.
Also, our local land managers are learning of the advantages of ebikes and in some states there have been successful collaborations.
CONTACT
Deschutes National Forest - contact form
Dept of Interior (BLM, Nat'l Parks, Bureau of Reclamation, DFW)
People for Bikes - Take Action
Join COTA - Central Oregon Trail Alliance - become part of the decision-making