Welcome to Bend Electric Bikes service department. We have over 12 years experience in servicing and repairing ebikes and keep our shop stocked with brand specific parts. Our mechanics are certified and trained by our brands and are equipped with diagnostic tools and latest updates to keep your bike ready to roll.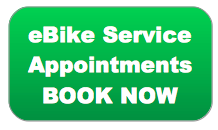 COVID Policy  - Masks, face shields and face coverings are currently required statewide for indoor public spaces including retail stores. In addition, face coverings are required in outdoor public spaces when physical distancing is not possible.
Service Packages For Bend Electric Bikes Brands 
*New Bikes Purchased From Bend Electric Bikes include FREE TUNE-UPS for 6 months. 
Basic  $45.00 & up
Inspect the bicycle for safety

Removable and sliding dropouts

Chain/belt tension

Stem bolts

Brake and shifter mounts to bar

Caliper bolts

Axles or quick releases

Seatpost

Accessories like lights, racks, etc that can rattle loose

Electrical connections

Brake inhibits

Battery mounts and spacing if applicable

For Bakfiets: steering arm and steering linkage bolts for torque and proper position

Update software

Family accessories such as hooptie, seats, guard rails, pegs, etc.
Annual $80.00 & up
Inspect the bicycle for safety, including everything from the safety check. In addition, this tuneup offers basic adjustment to shifting and braking and checks the following:

Alignment of brake calipers

Brake pads and rotors

Piston engagement to the rotor

Adjust shifting

Chain wear - alert customer

Cassette and sprocket wear

Adjust hubs

Update software and set service interval for future service

Clean bicycle

Clean and re-apply grease to quill stems, seatposts, etc.

Loctite crank bolts and other bolts that undergo tension and relief cycles, as well as rack bolts, etc.
Overhaul $175.00 & up
A more involved tuneup intended to make a used bike perform as good as new. Price does NOT include additional cost for parts. Follows same basic procedure from safety check and check up, but adds the following:

New cables and housing for cable brakes and derailleurs

Parts tank soak for derailleurs, chain, shifters, and other gritty, gummy, or corroded components

Brake bleed/fluid change

Inspect motor mount torque for mid-drives

True wheels

Adjust hubs or repack if necessary

Check headset and other bearings for smooth action

Update software and set service interval for future service

Clean bicycle
A la Carte Labor Rates
Brands Carried By Bend Electric Bikes or sold to you by BEB
Diagnostic Fee: $65, Complimentary for bikes purchased at Bend Electric Bikes

BEB Brands Labor rate: $70 per hour 

30 day warranty on workmanship.
Brands Not Carried By Bend Electric Bikes
We perform mechanical repair on non-BEB brand bikes, ie. flat tires, braking, shifting etc. We cannot diagnose electrical problems or install motor kit conversions, please contact the manufacturer.

Non-BEB Brands Labor Rate: $90/hour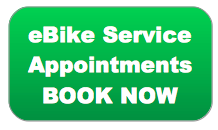 Need a bike while yours is being serviced? $10 per day bike rental
Bike Storage Policy: Once we notify you that your bike is ready we will provide complimentary bike storage for up to 7 days after which we will add a storage fee of $10 per day.